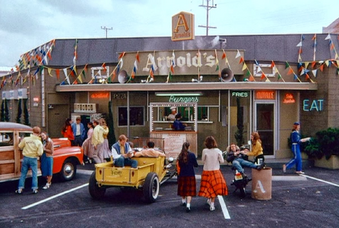 Arnold's Drive-In (aka Arnold's) is the name of a popular local "greasy spoon" in Milwaukee- a quintessential teen hangout for most of the characters in Happy Days, especially Fonzie, Richie, Potsie, Ralph and their friends and schoolmates. Arnold's would later become the regular hangout for Chachi, Joanie and Jenny Piccalo and their friends and classmates.
Arnold's has curbside service where customers can pull into a parking space and dine in the comfort of their cars while waited on by a carhop, but also has a dining room replete with tables and booths, a pinball machine, a jukebox, a dance floor, and even a small stage (with piano) for live performances. The dining room is adorned with a large "Jefferson High School" banner on the wall above the jukebox as well as pennants from other schools and colleges (real and fictional).
The main external identifier for Arnold's is the rotating sign mounted on the roof with a large red neon capital "A" with the word "Arnold's" in small lettering underneath. The "A" on the sign uses the Gill Sans Bold Condensed font, similar to the capital "A" used by the Oakland A's baseball team.
Early on in the series, many of the scenes filmed at Arnold's were external, but over time the majority of the scenes switched to inside the restaurant.
Fonzie's Office
Edit
The restrooms in Arnold's were marked "Guys" and "Dolls", and Fonzie used the "Guys" room as his office, where in earlier episodes he often held court in helping Richie and the others with their problems.
The Jukebox at Arnold's loomed large in Fonzie's legend as well. Fonzie was the only one who could rap it with his fist causing it to immediately start (or stop) playing.
"See It At Arnold's"
Edit
Beginning in Season 3, Arnold's was the venue for numerous and various events including, but not limited to the following:
Arnold's Burns Down
Edit
In the Season 7 episode Hot Stuff, Chachi, entrusted by Al to close the restaurant, throws his apron on the grill having forgot to shut the grill down. The apron quickly ignites, and the ensuing fire soon spreads throughout the rest of Arnold's. The damage is extensive, but Arnold's was insured, and so with Fonzie's financial assistance the restaurant is rebuilt and given a contemporary makeover, a 60s motif.
Fun Facts
Edit
In the pilot episode of Happy Days, the restaurant was called Arthur's.
The pinball machine featured in the show was called "Nip It". Manufactured by Bally, this particular table was first released in 1973.
Community content is available under
CC-BY-SA
unless otherwise noted.