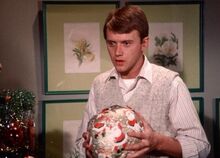 Charles "Chuck" Cunningham (played by Gavan O'Herlihy, then Randolph Roberts) was the Cunningham's eldest child and older brother to Richie and Joanie in the first two seasons of Happy Days. A high school jock at Jefferson High, Chuck was a college student and basketball player. He also appeared in the "Love and the Happy Days" pilot, played by Ric Carrott.
Chuck's a rarely seen character who disappeared without explanation in Season 2, giving rise to the pejorative term "Chuck Cunningham Syndrome" to describe TV characters simply disappearing from shows, to the point where later episodes of the show are scripted as if the character had never existed.
For example, in the final Happy Days episode at the end of Season 11, Howard comments that he is proud of his "two kids". Fonzie's character took on the role of big brother to Richie and his friends. He sucks his thumb when he's worried, and so does Joanie Cunningham-Arcola.