Carol "Pinky" Tuscadero, an old romantic flame of Fonzie's, appears in three episodes of Happy Days; "Fonzie Loves Pinky: Part 1", "Fonzie Loves Pinky: Part 2" and "Fonzie Loves Pinky: Part 3".. The part of Pinky is played in the episodes by Roz Kelly, who reprises the role of Pinky, now 20 years older, in an episode of the short-lived Happy Days spinoff, ABC-TV's Blansky's Beauties.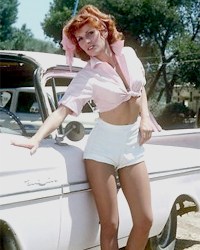 About Pinky
Pinky Tuscadero is a woman with red curly hair, who Fonzie has romantic feelings for, and they once almost married, but he changed his mind. Like Fonzie, she can fix vehicles, and rides a motorbike (a pink one) which she can do tricks with, making her famous. Her trademark colour is pink, demonstrated with her pink motorcycle, her coworkers The Pinkettes with their pink scarfs and trademark line "Think pink" and her own pink scarf.
In the "Fonzie Loves Pinky" episodes, Pinky helped Fonzie win a demolition derby challenge against their nemises, the hated Malachi Brothers, and taught him an important lesson: not to be sexist. She cannot spell "Fonzarelli", but Fonzie jokes that she will learn, as she learned to spell "Tuscadero". She got injured while fixing her car, but has recovered. Joanie wants to be a Pinkette, but Marion, Richie and Howard don't want her to be one. Pinky would appear again, this time 20 years older, in a episode of the short-lived ABC-TV Happy Days spinoff series, Blansky's Beauties.
In the Blansky's Beauties pilot, ("Blansky's Biking Beauty") Joey DeLuca, who happens to cousin to Carmine Ragusa (both were played by Eddie Mekka) introduced Nancy Blansky, who happens to be Howard Cunningham's cousin, a Vegas-show biz vet who also happens to own a Las Vegas hotel, to stunt motorcyclist Pinky who was instantly hired for Nancy's stage show. Pinky wore the same outfit as in her Happy Days episodes, though her hair was now in a '70s style shag cut. She looked as though she had not aged in 20 years.
External links
Community content is available under
CC-BY-SA
unless otherwise noted.